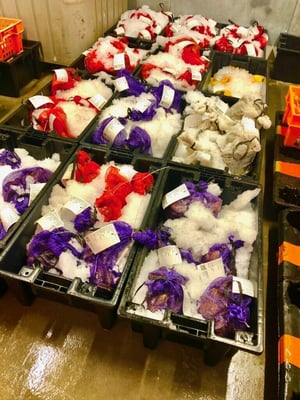 Almost every farm starts out selling to local restaurants, but as they scale distributors (aka wholesalers) play an increasingly important role. You will make more money per shell at a restaurant, but there is a limit to how much restaurants can buy. If you are producing more than a few local restaurants and some consumers can absorb, you are probably going to need to work with distributors. We've been talking to a lot of distributors lately and here are some of the things farmers should know.
To start with, understand the different types of distributors
Global full line distributors: The Syscos, US Food and others who sell everything to everyone. Unless you are huge they are unlikely to be your customer directly.
National/regional seafood wholesalers Companies like Stavis, Inland Seafood and Samuel & Sons sell everything from swordfish and lobster to tuna and oysters. They do a lot of volume in shellfish, but it is a small part of their business. Many of them are quite interested in carrying a range of product, but they may not be near your farm.
Shellfish Specific players: There are folks in most major markets that focus on being great at shellfish. Companies like Pangea, War Horse, and Hog Island know a ton about shellfish and are always looking for great product. They love having boutique farms with a good story and often run the oyster program for restaurants in major metropolitan areas.
Local buyers: In almost every region there are folks who buy from local farmers/harvesters and then sell either to restaurants or other distributors. Many of these folks are also farmers themselves and do this as a sideline. They can be the easiest to work with.
So what should a farmer do?
1) Find your potential buyers. Unless you have a truck and a cooling system, you need to find someone who will either pick up at your farm or you can drop off at easily. Take a look at the Interstate Shellfish Shipper's List. Any company that ships across state lines must be on this list. If you are going further afield, you may need to work with a local reshipper who can get your product to the distributor.
2) Build a Few Relationships: Find a few distributors who serve different markets that you can work with for the long haul. Find the hole in their product line you can help fill (are you unique based on your location, cost, story?). Don't stretch yourself too thin. You need to invest in the relationships. Don't get overly caught up in a few pennies more or less for the product. Better to move a consistent amount every week.
2) Don't sell to their customers: When you have a distributor, be careful to not sell to their customers. No one wants to be undercut by the farm at a key account.
3) Build a brand: Have a story that is unique and well told. Promise the consumer something unique: The taste of Maine. A sweet Chesapeake oyster with an especially deep cup. A pacific gem that has been tide tumbled. Easy to shuck oysters.
4) Be Reliable: Distributors and restaurants want consistent sellers. If your product is only intermittently available they can't build that following.
5)Have a clean consistent product: A product that shows up with clean shells and no dead animals. If something goes wrong fix it quickly.
6) Help them Help You: Many of the better distributors will want to bring chefs on tours, train staff and generally help position your product. Be available and helpful.
Bottom Line: Distributors play an important role and most farms work with them. Treat them well and they will be your best allies.