Although BlueTrace software is great, the key to success is having folks like Kam Kim of Newport News, VA on the team.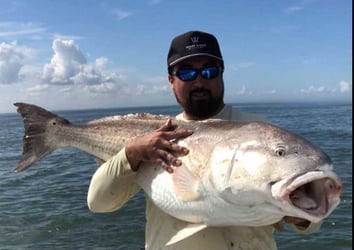 Kam was a farm manager at Cherrystone, one of the largest farms on the east coast, growing millions oysters before moving on to be the field logistics specialist for the oyster breeding program at the Virginia Institute of Marine Science (VIMS).
"I used BlueTrace when I was at VIMS," said Kam. "Back then, we were spending hours and hours trying to find certain bags scattered about underwater. I can't tell you how stressful it was trying to remember how to track my inventory and what I needed to do next. Once we used BlueTrace, every single bag was accounted for and we always could pinpoint the specific place to find the one we needed."
Because Kam works with farmers all over the world, he is immersed in their day-to-day logistics. "You can keep track of when you planted the seed, how many bags you planted, when you need to check them, when to thin your oysters out, and pinpoint what time of year they're growing fastest,"
As he tells it aquaculture farmers have always tried to track their inventory in their heads, on wet, muddy notebooks, on whiteboards, and cobbled together with Excel sheets. "Shellfish are live animals; they need care and attention, and having to remember all of those little details to keep these animals alive can be very stressful," he said. "It's why we created this software because we had so many farmers tell us 'I can't manage all of this by myself.' "
BlueTrace's Farm Manager software gives farmers complete control over every piece of data. Just using an iPad, they can see in real-time when the team completes a work task.
And BlueTrace comes with one more bonus: Kam. "I work with all of my farmers directly, one-on-one, whenever they need," he said. "They can ask me any questions and find the shortcuts around mistakes I've already learned."
From the shellfish farmer new to the business to the established farmer who
relishes data-driven reports, there is a high value for farmers to go home at the end of the day with complete peace of mind knowing that the Farm Manager tool hasn't missed a thing. According to Kam, "Giving farmers free time to enjoy their lives is one of the most satisfying parts of the job"
Kam uses most of his free time to fish, hunt, and hang with his fellow oyster farmers. Follow his Instagram to see the amazing catches he reels in every week.